Another Hawkeye with a headlight warning light

22 August 2018, 12:51 PM
Scooby Regular
Join Date: Feb 2018
Location: UK
Posts: 49
Another Hawkeye with a headlight warning light
---
I've done a fair bit of searching on this, but my issue seems a little different so posting here.
I've got a 2006 Hawkeye, and the auto leveling headlight warning light popped on whilst I was sat in traffic yesterday. I've had this before but that was due to the arms on the sensors being seized - I managed to free those up and it's been fine since, they're freely moving this time.
The light turns on with ignition, then turns off for about 8 seconds before returning permanently. I understand if the sensors are faulty the lights should dip to the ground, but in my case that isn't happening, they're roughly the right height.
I've tried to reinitialise them based on some instructions I found, but they weren't very clear if they were the right ones, and nothing appeared to happen. It's very possible I did something wrong there.
I tried to unplug the front sensor to check the pins (from what I could see, the entire thing looks in good shape externally), but unfortunately my locking wheel nut appears to have been put on super tight, and out of fear of damaging it I haven't been able to remove the front wheel. I tried to access the plug with the wheels turned, but I'm not sure if there is a clip or anything I need to be weary of so I didn't manage to unplug the sensor to check it (is it just a matter of pulling it off?)
Not sure if it's related, but I have had a lot of weight in the back of the car in the last week or so so it was running very tail heavy, it's now empty though, and was fine for a few days in this state before the light appeared.
Any help would be great!


22 August 2018, 02:38 PM
---
You have two height sensors one front, one back, you don't mention the rear one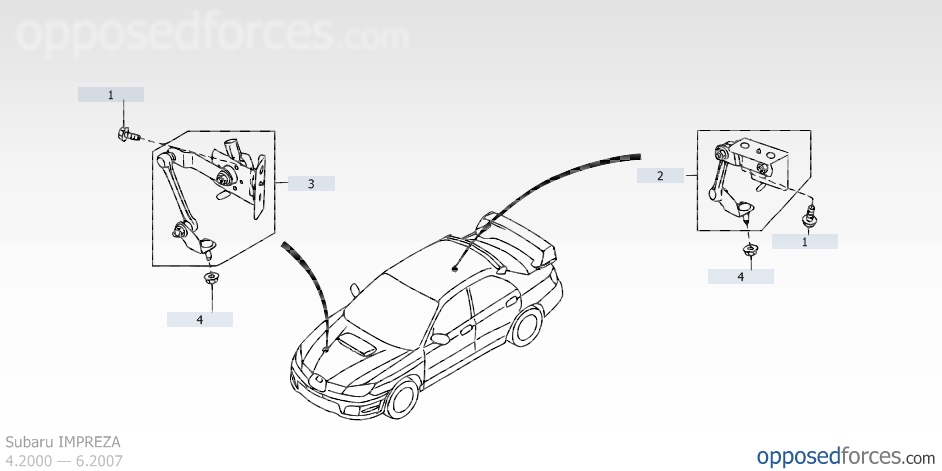 MY06/07 Headlight beam leveler procedure pdf
MY06-07 Impreza Headlight beam leveler sysyem diagnostics pdf

22 August 2018, 03:32 PM
Scooby Regular
Join Date: Feb 2018
Location: UK
Posts: 49
---
Thanks for the info! That's great!
I checked the rods and the sensor visually (or as far as I could without removing it).
Am I likely to be able to remove them without taking the wheels off with basic tools? I don't have access to axle stands etc currently, just the jack in the boot. I can then try the tests you mentioned.
I did follow that reinitialise procedure but I'm not sure I understood it fully as steps 3, 4 and 6 suggest turning the ignition on, but when was I meant to turn it off?

05 October 2018, 01:24 PM
Scooby Regular
Join Date: Feb 2018
Location: UK
Posts: 49
---
Sorry to dig up an old(ish) thread. I finally got around to testing the sensors which was a massive ballache it was to get the plugs out! The pins all look good and using a multimeter I was able to see the voltage change on one of the wires up/down as the arm was moved on both front and rear. If anyone ever needs to do this, I used a PC fan cable as that fits the 3 pins down in the sensor, and a 4.5v battery pack on the outer pins and measured the voltage coming from the middle pin.

I then had a look at the diagnostics document posted, this is where things get confusing for me.

Step 1 is to check the warning indicator turns off, which mine does - the problem is it comes back on about 20 seconds later. The head lights actually don't seem to be doing the little startup dance I recall them doing, and they seem fixed at a reasonable height (they haven't moved in some time). Am I missing something silly here such as a fuse for the headlight motors or something?

07 October 2018, 04:14 PM
Scooby Regular
Join Date: Sep 2010
Location: Isle of Man
Posts: 510
---
Hmm. That doesn't sound like a sensor fault. Either one of the headlight motors is faulty or it's the computer. This lives behind the glovebox, which has to come out to get to it. May be better getting it on the diagnostic unit to see if that brings up the code.

07 October 2018, 04:32 PM
Scooby Regular
Join Date: Feb 2018
Location: UK
Posts: 49
---
I did notice that from time to time my drivers side headlight has a little flicker, so wonder if it's related. If it were a motor would both sides stop doing the start up dance? (I'm sure there is a proper name for that...)
Am I likely to need to visit a dealer to have the computer code read? I assume it's fairly niche, but my nearest dealer isn't exactly local


10 October 2018, 02:24 PM
Scooby Regular
Join Date: Feb 2018
Location: UK
Posts: 49
---
Spent another few hours on this testing continuity and all was good, so decided to re-test the sensor and now it either outputs 4.1v (from 4.5v battery pack) or 0.1v, it doesn't seem to change when moving the arm, so I guess that's been the problem all along - odd it tested fine originally!
Annoyingly I've put the car back together now and forgot to get the codes off of it, can anyone tell me the part number please?
I've seen this on ebay which I wonder if it could work, it looks about right and is super cheap:
https://www.ebay.co.uk/itm/Headlight...EAAOSwiSJbhMI9

10 October 2018, 03:39 PM
---

10 October 2018, 03:55 PM
Scooby Regular
Join Date: Feb 2018
Location: UK
Posts: 49
---
Originally Posted by
Don Clark
Sorry

It was the front, will order based on those part numbers, thanks a lot for your help!

Thread
Thread Starter
Forum
Replies
Last Post
Lighting and Other Electrical