Impreza 95 EJ20 SOHC 16v noisy lifters

13 March 2019, 09:56 PM
Scooby Newbie
Join Date: Mar 2019
Location: Finland
Posts: 5
Impreza 95 EJ20 SOHC 16v noisy lifters
---
Hi, i have a problem with noisy hydraulic lifters.

its only 2 lifters right side of the engine, upper and front (furthest from the oil passage). Ive tried 3 different oils and no change. I can get those working silent when take rocker off and bleed Air off lifters and put back in. It runs about 3 minutes fine and silent, then those same lifters starting to knockK. Done this couple Times. Problem with oil pressure? Dont think so, then all lifters knock? Oil pressure light goes off very fast when starts. Maybe worn rocker/axle or oil passage blocked oil pressure cant get to lifters? Tried olso engine flush and clean rocker with pressurised Air. Heard that maybe can change newer rockers with solid screw adjust from year 97 to x?

If any tips i would be glad

14 March 2019, 09:23 AM
---
Why not replace the lash adjusters ?? (item 3)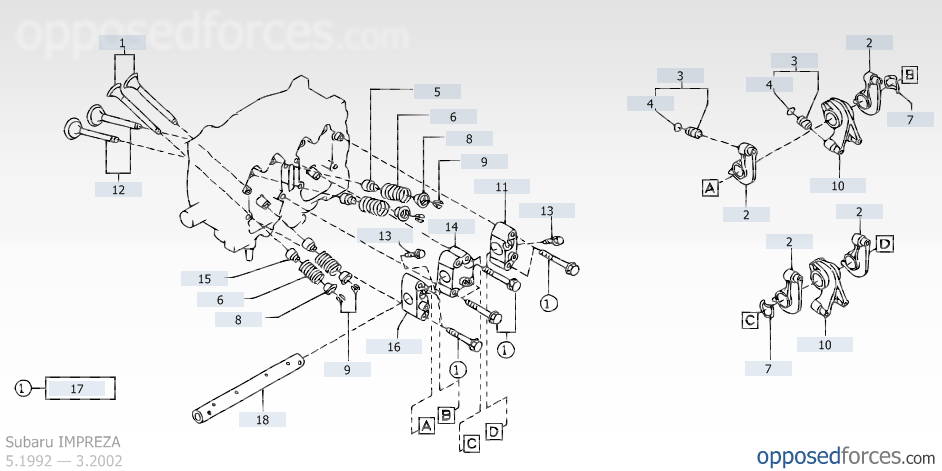 https://www.ebay.co.uk/itm/HYDRAULIC...AAAOSweWVXe-Zm
https://www.onlinecarparts.co.uk/oen...3230aa110.html

14 March 2019, 12:05 PM
Scooby Newbie
Join Date: Mar 2019
Location: Finland
Posts: 5
---
I forgot to tell that i have changed those twice. First Time it didnt help and it was still noisy after couple minutes and i bought more (was so cheap, maybe why its noisy?
Brand is Ajusa) and tried again but same result
---
Last edited by Pokseri; 14 March 2019 at

12:07 PM

.

14 March 2019, 02:40 PM
---

14 March 2019, 10:02 PM
Scooby Regular
---
The lifters need to be primed with oil / air bled from them BEFORE fitting otherwise they will never go quiet on the early SOHC engines.
Will PM you with the procedure when I find it

15 March 2019, 06:55 AM
Scooby Newbie
Join Date: Mar 2019
Location: Finland
Posts: 5
---
I did that Just like in video and merlins guide.
to all 8 lash and 3 times (when tried different oils) only those two not working.
My friend has 97 ej20 sohc with screw adjust rockers, i change that type if it possible.
I heard it should go Bolt on(?)


​​​​
Thread
Thread Starter
Forum
Replies
Last Post
Engine Management and ECU Remapping