F1 2019

16 April 2019, 12:01 PM
Scooby Regular
Join Date: Sep 2004
Location: Notts
Posts: 22,338
Likes: 0
F1 2019
---
So to continue fromt eh other thread, a new year a new season, same old Ferrari lol
Originally Posted by
BrownPantsRacing
I totally agree. Hamilton is just in a different class. I thought Bottas showed a promising start to the season with good pace, but I can never see him beating Hamilton as he seemed to mentally give up last year.

It was a terrible Ferrari decision to make Leclerc move over and let Vettel through IMO.
When in recent history have ferrari ever made a good team decision? haha
One of their biggest weaknesses IMO is they always want a 1 and 2 driver, not equal. Other teams wait to see whos coming out on top before pulling that trigger. Right now they should be 3rd and 4th in the drivers champ, instead 4th and 5th and 67 points behind in the constructors after 3 races is def not looking good indeed.
Also read about the potential development for their design is rather limited compared to Mercedes due to the design of the front wing/barge boards. That doesn't bode well for ferarri later in the season either.
It's looking like it may well be another Ferrari failed season due to their own problems if the start is anything to go by. Time will tell on that one of course.

16 April 2019, 05:51 PM
Scooby Regular
Join Date: Feb 2009
Location: Mount Weather
Posts: 5,450
Likes: 0
Received 0 Likes on 0 Posts
---
They said from before the start of the season they would back Seb, we cant then be surprised when they do, whatever the rights or wrongs, it is what they said they would do,
Funny Rosberg changed his tune from what he thought during the race to post race, another plum.

Brilliant to see Ted back, I know its only for part of the season, as the new boss at Sky hasnt taken a liking to him,
Probably thought Karun would fill his flip flops, never going to happen, Karun isnt missed from Channel4`s coverage either , But Ben makes walking a talking look weird, when he tried to do a Karun pre race lol.
---
Last edited by JDM_Stig; 16 April 2019 at

05:55 PM

.

21 May 2019, 11:42 AM
Scooby Regular
Join Date: Feb 2009
Location: Mount Weather
Posts: 5,450
Likes: 0
Received 0 Likes on 0 Posts
---
https://www.bbc.co.uk/news/world-europe-48345660
Three-time Formula 1 world champion Niki Lauda has died at the age of 70.
Lauda, who underwent a lung transplant in August, "passed away peacefully" on Monday, his family said.
The legendary Austrian, one of the best-known figures in motor racing, took the title for Ferrari in 1975 and 1977 and McLaren in 1984.
For many, he will be remembered for his remarkable recovery and return to racing after being badly burned in a crash in the 1976 German Grand Prix.
A new generation of fans was introduced to Lauda in the acclaimed 2013 film Rush, which detailed his rivalry with British driver James Hunt, the 1976 world champion.
Who was Niki Lauda?
Lauda, who was born in Vienna in February 1949, was a motor racing legend who went on to be a successful businessman following his retirement from the sport.
However, he was probably best-known for surviving a crash during the 1976 season which left him scarred for life.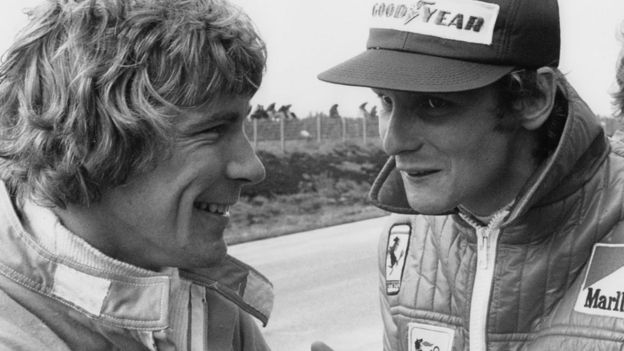 Image copyright
GETTY IMAGES
On 1 August 1976, one year after winning his first title, he suffered third-degree burns to his head and face and inhaled toxic gases that damaged his lungs after his vehicle burst into flames at Nurburgring.
He was given the last rites in hospital but made an almost miraculous recovery and returned to racing, still bandaged, just 40 days later.
After his career as a racing driver, he became an airline entrepreneur and, most recently, a non-executive chairman for the Formula 1 Mercedes team, instrumental in bringing in British driver Lewis Hamilton, who has won five world championships.
"His unique achievements as an athlete and entrepreneur are and will remain unforgettable, his tireless zest for action, his straightforwardness and his courage remain a role model and a benchmark for all of us," his family's statement said.
However, ill health followed him into his later years and he underwent a lung transplant in August 2018.
He had previously had two kidney transplants, the second donated in 2005 by his then-girlfriend Birgit Wetzinger, a former flight attendant for his airline whom he married in 2008.
In January 2019,
Lauda spent 10 days in hospital
while suffering from influenza.
Lauda leaves behind his wife, their twins born in 2009, and three sons from previous relationships.
Thread
Thread Starter
Forum
Replies
Last Post
25 February 2016

08:23 AM